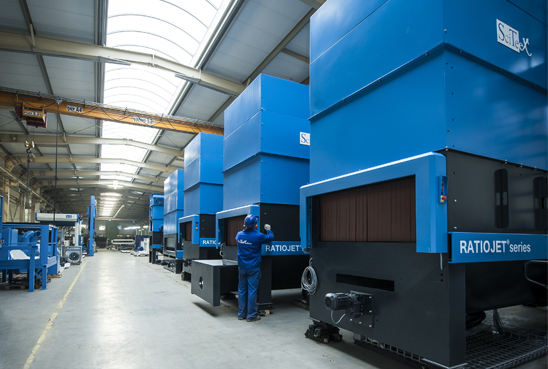 The SciTeeX Group has been active in the surface treatment area since 1992.
The SciTeeX Co. is a leading machine manufacturer of global range.
SciTeeX's BLASTLUX Series  blastrooms, RATIOJET wheelblast machines, and VENUS paint-and-dry booths have been granted many distinctions at International Events. This equipment has been operated by Customers in more than 33 countries of the world.

SciTeeX machines are manufactured according to SciTeeX own and innovative designs. They are produced in SciTeeX's Works,  covering 30 000 m2 in total surface area with halls covering 7 500 m2 , equipped with a modern machine park.
The SciTeeX Group's offer comprises much more, namely:
design works in the surface engineering area,
development and production of specialist machines to meet Customers specific needs,
integration with peripheral equipment for realization of complex turnkey contracts, on an international scale.
SciTeeX specialization covers the following technologies:
mechanical surface preparation:   pneumatic blastroom and wheelblast abrasive treatment,
washing and/or chemical surface treatment,
thermal spray application of metal and ceramic coatings,
application of organic coatings by spraying and drying of liquid paints or by powdering and curing of powder paints.
SciTeeX has developed the expertise in the large-size workpiece treatment area.
Our fundamental asset is that we strive to attain the engineering excellence, to phase in the innovations, and to provide the high quality of service and machines.
In its activity, the SciTeeX Group develops the ISO 9001 Quality Management System.
Resources
Production Facility:
SciTeeX's modern production plant is situated 100 km south-east of Warsaw, Poland.
Land area: 30 000m2
Production & storage area: 7 500m2
Production and storage under construction: 5 500m2
Equipment: two laser cutting machines up to 4kW, automated storage of steel plate up to 90 tons, uncoiling machines up to 2mm, high-resolution plasma and oxy-cutting CNC up to 6m,  three CNC press brakes up to 6m-300T, sheet metal bending machine, CNC tube bending machine, mechanical workshop, welding equipment, pneumatic blast machine, painting and drying booth. Pneumatic Blast Machine and Painting and Drying Booth used for productions are available as demo machines for tests by our customers.


Design Departments:
Two design departments in Germany and Poland employing a team of 45 experienced mechanical and electrical engineers. Our design departments are divided into two divisions:
Standard Design Department suited to efficient and fast design of typical machines.
R&D Department dedicated to tailor-made and innovative solutions.
Our design departments work with modern and efficient CAD stations with AutoCAD Inventor / SolidWorks and other advanced technical software. We have at our disposal an extensive database with a library of standard drawings and unorthodox solutions. Our work practices are based on unrivalled expertise in machinery design, delivery and assembly. Our creative solutions are the optimal result of cooperation between our engineers and several research institutes.