Production Facility:
SciTeeX's modern production plant is situated 100 km south-east of Warsaw, Poland.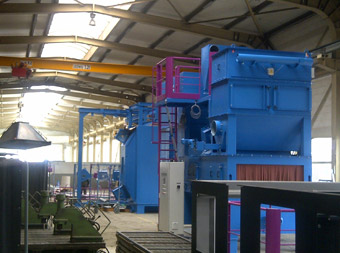 Land area: 30 000 m2
Production & storage area: 7 000m2
Production and storage under construction: 5 500m2
Equipment: two laser cutting machines up to 4kW, automated storage of steel plate up to 90 tons, uncoiling machines up to 2mm, high-resolution plasma and oxy-cutting CNC up to 6m,  three CNC press brakes up to 6m-300T, sheet metal bending machine, CNC tube bending machine, mechanical workshop, welding equipment, pneumatic blast machine, painting and drying booth. Pneumatic Blast Machine and Painting and Drying Booth used for productions are available as demo machines for tests by our customers.
Design Departments:
Two design departments in Germany and Poland employing a team of 30 experienced mechanical and electrical engineers. Our design departments are divided into two divisions:
Standard Design Department suited to efficient and fast design of typical machines.
R&D Department dedicated to tailor-made and innovative solutions.
Our design departments work with modern and efficient CAD stations with AutoCAD Inventor / SolidWorks and other advanced technical software. We have at our disposal an extensive database with a library of standard drawings and unorthodox solutions. Our work practices are based on unrivalled expertise in machinery design, delivery and assembly. Our creative solutions are the optimal result of cooperation between our engineers and several research institutes.